Entering a new high-pressure era with the DYNAJET 500th Blue Performance
News
Digital, environmentally friendly and powerful - whether you work in the municipal or service sector, the new DYNAJET 500th Blue Performance is the ideal partner for you.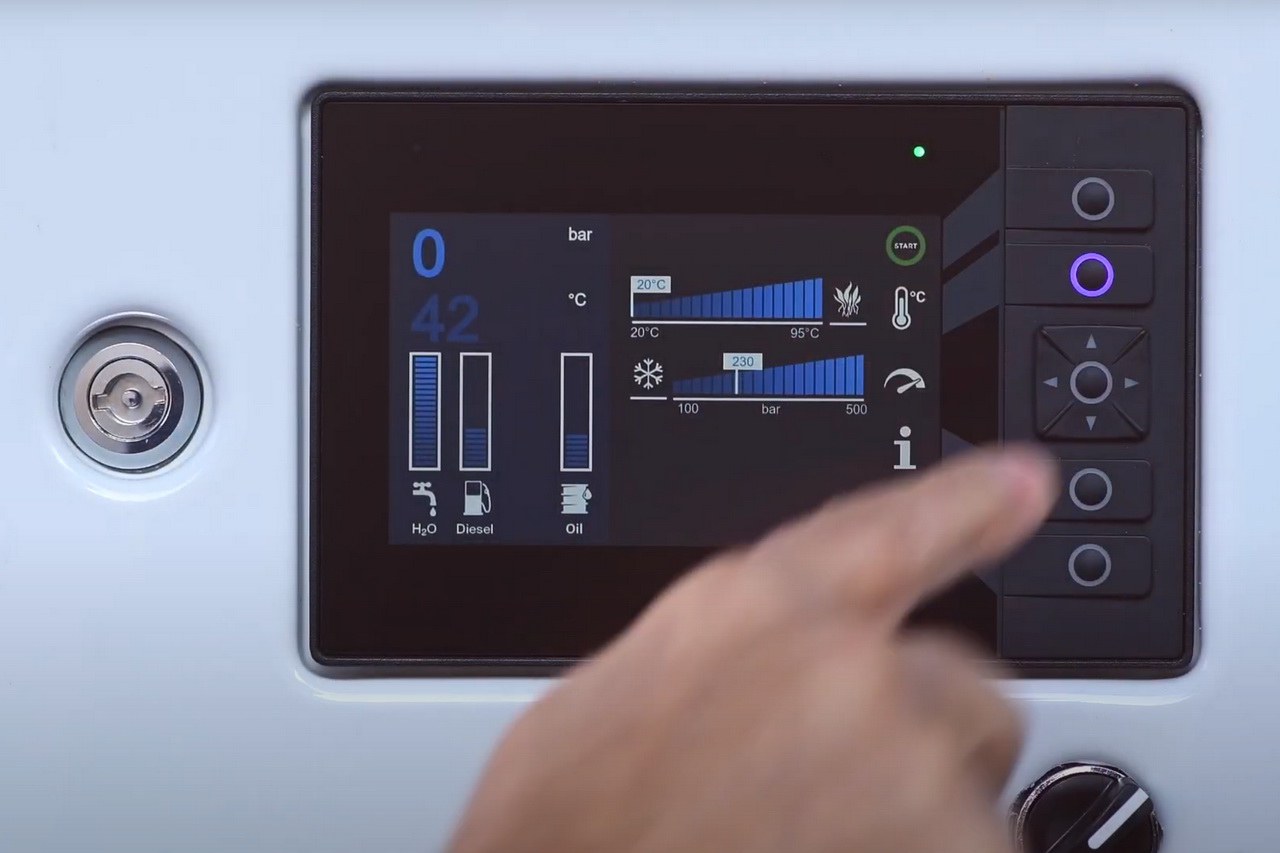 With enough power and a 1000 litre water tank, cleaning, derusting, weeding, debarking, stripping, paint stripping and much more is easy. With the new large colour display, you can easily set the machine for your applications and adjust it to your needs. To have everything under control, you can see all tank levels and current data such as pressure and temperature at a glance.
To make cleaning even more effective for certain applications, you can heat the water temperature up to 95 °C using the two powerful hot water burners.
The details at a glance
Digital control
The digital control with a 5 inch colour display allows you to set and monitor the machine quickly and intuitively. All modes, such as pressure, speed and temperature, can be easily operated via the display, which is also easy to use with gloves. In addition, you can immediately see all tank levels and the current pressure and temperature.
Of course, the new control architecture makes it possible to monitor the engine and pump on the display. Updates of the control software and remote access are possible through the new digital control, as is the locking of certain settings for rented machines. The digital control system with its operating hours counters also helps you with post-calculation and billing.
Low-emission engine
The low-emission Hatz engine, with its diesel particulate filter and low fuel consumption, not only protects the environment but is also economically efficient. Its powerful water-cooled engine with 42 kW and 202 Nm works powerfully yet quietly. Thanks to Opti Heat Active Premium technology, the exhaust system regenerates itself. It complies with the latest Stage 5 emissions standard.
High-quality crankshaft pump
The high-quality crankshaft pump with 28 kW output and a maximum flow rate of 30 l/min is the proven 3-plunger pump with low maintenance costs and long service life.
Two powerful hot water burners
Two powerful hot water burners with 91 kW output generate the necessary heat. They use the waste heat from the motor to reduce consumption. Fast sensors for the water temperature ensure a very uniform temperature curve up to 95 °C. The proven technology of the burners and the maintenance-friendly electrodes and brackets ensure high efficiency and a long service life.
Chassis
The chassis - one axle so you can manoeuvre the trailer easily and get everywhere with ease. A 1000-litre water tank makes you independent and with the 50-metre high-pressure hose on the reel, you can operate without any worries. We have retained the two sturdy bonnets, which you can also order in your company colour, a crane eye and the European road approval as well as the usual proven technology.
And of course you can also take advantage of all our tried and tested options as usual, such as radio remote control, cover plate, special colours, limescale protection, chemical injector, spark arrestor, pressure reducer, air shut-off flap or battery disconnector.
More information:
Date: